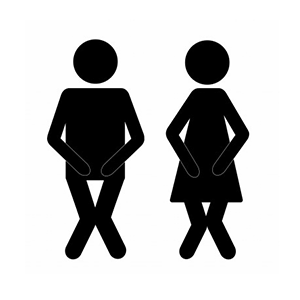 If you find it very hard or even impossible to urinate in the presence of other people, you should know that you are not alone. There are lots of individuals, both women and men, who can't empty their bladder unless they are alone in the restroom. While for women this isn't a big problem, men can have a difficult time when needing to urinate in the restrooms of hotels, restaurants or gas stations. If you didn't know it until now, you should find out that your condition has a name. It is called paruresis, and it is nothing else but a social anxiety disorder. As estimations show that 21 million Americans, you can surely find a lot of shy bladder resources to help you overcome your problem. All you need to do is reach out for help, as paruresis is nothing to be ashamed of.
The official International Paruresis Help Association website might be the best place to start searching for information. It can help you by pointing out support groups and seminars, as well as drug therapies that work for some sufferers. Nonetheless, you should be aware that the IPA website isn't a substitute for medical advice, so you should probably discuss this problem with your doctor before trying to find advice and solutions online. Your physician may be able to provide you a lot of useful in formation on this topic. In addition, he or she may be able to direct you to a specialist in this type of affections.
The reason why you should see your doctor before trying anything else is that your impossibility of urinate might be the secondary symptom of a more severe medical condition. Your doctor is probably going to recommend you specific medical tests to eliminate all other possibilities, so that you can rest assured you don't suffer from some severe illness that may worsen if ignored.
As soon as you are sure you don't suffer from any other condition that may prevent you from urinating normally, you can go ahead and search the web for shy bladder resources. When doing your research, try searching for synonymous terms as well. In addition, take a closer look at the websites you find, as not all of them may be written or endorsed by medical specialists. If you follow the wrong advice, you can do yourself more harm than good. It's in your best interest to make sure you get your information only from legit websites, written by medical professionals or by experts in social anxiety disorders, clinical psychology or other mental health profession.
Last but not least, do not underestimate the power of online support groups and discussion forums. They are full of members like you, who have decided to share their problem and actively search for solutions to get rid of it. Exchanging advice, opinions and stories is always helpful, so don't shy away from joining a few of these communities. The feeling of belonging can help you heal faster.…